Green Wanderers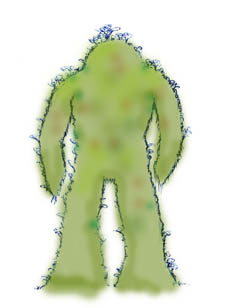 'My Lord Magister, Most Wise and Merciful, Bounteous Minister of Imperial Trade,
'I humbly append a report for Your Honour's perusal. I believe it relates to a matter of some importance to the Ever-Expanding Rays of Divine Splendour.
'In the 25th year of Emperor Bestowing Justice, whilst fighting the Battle of Ampash, Lesser General Vatrachandar claimed that he saw a creature three times the height of a man, clad in living plants, striding across the battlefield. He was not believed.
'In the 35th year of Bestowing Justice, one hundred of these creatures appeared, the largest number ever reported, and were seen crossing the Plain of Giants, Plains of Pesh and the Hills of Niranim. They were given the nickname "Green Wanderers".
'From the descriptions given, green wanderers are giant man-shaped creatures made from, or clad in, living foliage. They appear from nowhere, stride cross the landscape and then vanish. No-one as yet has reported an origin or a destination for these creatures. Their reported height varies from three times the size of a man, up to five times the size of a house. The smaller size is most commonly reported.
'Just over twenty years ago, in the 41st year of Received Wisdom, Merchant Lord Dashrapur Ondra posted claims to the Merchants League that his compound in Four Quarters, Nirhamsa, had been destroyed by a green wanderer walking over it. Certainly a wanderer had been sighted in the region, but it was later discovered from eye-witnesses that the wanderer had avoided the compound, apparently deliberately. Merchant Lord Dashrapur Ondra was found to have been trying to defraud the Turif clan who had provided insurance for the compound.
'The apparent sentience shown by the wanderer in avoiding Lord Ondra's buildings is at seeming odds with the otherwise reported behaviour of wanderers - that they show an almost mindless lack of awareness of anything surrounding them. It should be noted, however, that it turns out that avoidance of obstacles is not an unusual phenomenon. Depite Lord Ondra's claim, there have been no reports of wanderers stepping on man-made structures, accidentally or otherwise.
'Recently there have been increased sightings of wanderers again, predominantly in the north of the Empire. There are still no indications of where they originate, or where they are going, although the general direction is from the Throne of Heaven Mountains towards the south. It is possible, given their foliage-covered nature and their Northerly origins that they are Earth spirits of some kind, perhaps offspring of the Divine Jade Gibbon.
'Most August Minister, I believe it would be of great benificience if we at the Collegium Arketium could mount an expedition to ascend one of these creatures as it passed by, to ride with it and discover its goal. I humbly submit a request for five hundred thousand yen for funding of the expedition (please see attached expenses sheet).
'Your Unworthy Servant, Most Wise Master Barshallar, Department of Supernatural Studies, Collegium Arketium, Llaza.'
---
(c) 2006 The Creative Conclave.
Contact us.